Christmas decorating has always been a great challenge for me, and sometimes my family teases me about being "the grinch" and there's always a story or two about how I've taken down the tree on Christmas Day, while there were still guests in the house. I love Christmas. But we have always had a very small home – going from 1000 square feet to 800, and in the dead of cold, long, dark winter in Alaska, with the kids trapped inside, it gets even smaller. I feel claustrophobic with just the toys not put away, or if there is a project going on on the dining room table.
So I always keep my Christmas decorating to a minimum, and only have it out for about a week. The other great challenge with Christmas decorating is we live 350 miles from a Target. There is some shopping about 100 miles away, but with a one year old having to ride four hours in a car seat, trips to "town" are rare, and so full of necessities like doctor appointments, business needs and grocery shopping that I rarely just get a chance to shop for things like clothing or home decor. This is the big reason why I do so much DIY.
This year, my Holiday mantle is true to who I am right now – simple and DIY.
In a small space, wall decorating is your best option.  A few fun holiday pillow covers bounce the Holiday spirit around the room, and is just the right amount of Christmas decorating for our small space.
It was the Joy sign that made everything come together for me this Holiday season.  It is of course DIY.
For tools I used my Ryobi AirStrike Crown Stapler with 1″ long staples.  A brad nailer or even screws or a hammer and nails would do the trick too.
Whenver you use nails or staples, make sure you use glue.
I had some leftover strips of 1/2″ plywood that were 8″ wide and about 40″ long.  I simply glued and stapled to some 1x2s on the back.  If you don't have leftover plywood, anything from cedar fence pickets to new plywood ripped into strips 8″ wide to a full plank of plywood would do the trick.  At this point, I was just using scraps to create an economical canvas for me to work on.
The plywood was reclaimed from some other project, and had this gray tint to it.  A gray wash paint treatment or gray stain would give you a similar look on new plywood.
I used a 1×2 to create my J and Y letters, leaving a 1x2s width around the outside, and then the letters themselves are 1×2 width wide.  The I just painted inside the letters with white paint.  
Then I just added a nail and hung a wreath on the nail (wreath is from Home Depot). My little niece helped out and was quite proud of the finished project too.
I love it, and hope you do too!
Want more Holiday Mantel inspiration?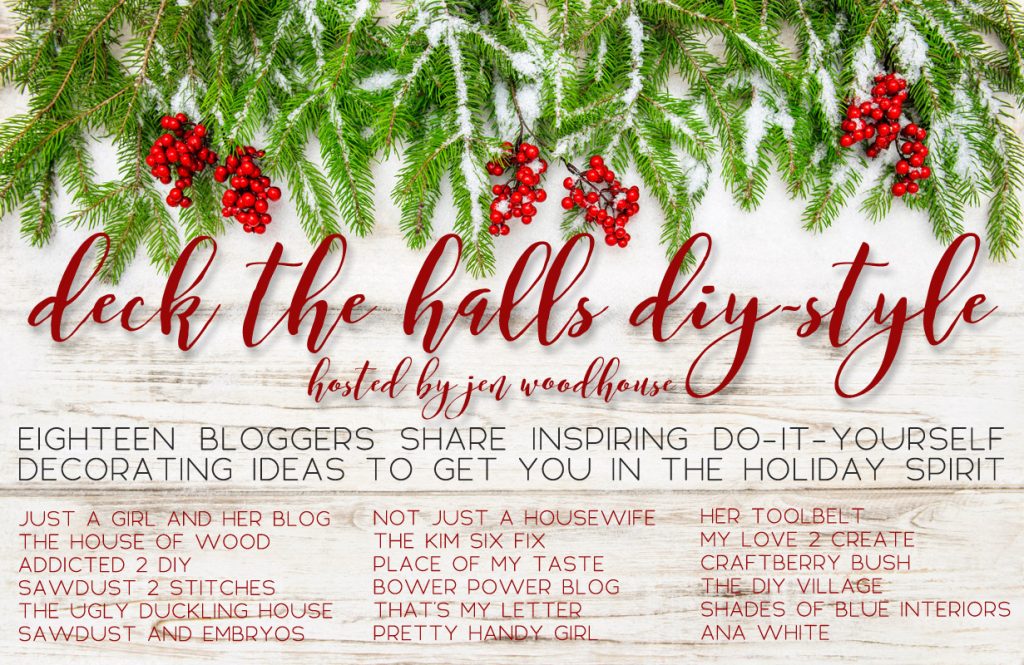 Jen Woodhouse hosted an amazing blogger mantel tour this year – check out all the mantels below!
I'm so proud and humbled to be a part of this blog tour this year.  Aren't they all just beautiful and inspiring?
Well, like you, today is going to be a busy one, with last minute gifts to wrap and a family Christmas party, so I better get to it.  
PS – Don't forget to pin this wood Joy sign for next year!